Even before US Acting Principal Deputy Assistant Secretary of State Thomas J. Vajda  arrived in Sri Lanka, policy circles were curious about the possible confluence of interest between USA's Indo-Pacific concept and Prime Minister Ranil Wickremesinghe's desire to position the island as the maritime hub of the Indian Ocean. Before we pass any value judgment on this claim, we should first try to analyse what exactly the Indo-Pacific concept entails. This article serves as a brief primer of the buzzword 'Indo-Pacific' to those new to geopolitics and international relations
By Shakthi De Silva 
Is there a clearly defined geographical contour for the Indo-Pacific?
Not really. Sinderpal Singh, a Senior Fellow of the South Asia Programme at the S. Rajaratnam School of International Studies, in his article to Asia Policy explains that "the US view approximates the Indo-Pacific Command area of operations, extending from the west coast of India in the Indian Ocean to the west coast of the United States in the Pacific Ocean. India, by contrast, regards the 'Indo' to denote the whole of the Indian Ocean, stretching from South Africa to Australia. This divergence in strategic mapping is significant because it signals certain differences in perceptions and strategies between the two countries" (p.79).
While some scholars argue that President Trump's Indo-Pacific strategy is an updated version of Obama's 'rebalance/pivot to Asia', others– such as the former United States Secretary of Defence Jim Mattis– noted, that the Indo-Pacific Strategy is a subset of America's broader security strategy; possibly implying that its scope is chiefly limited to East Asia. The Indo-Pacific concept may also be viewed in light of USA's categorisation of China as a strategic competitor and revisionist power in the most recent National Security Strategy and National Defence Strategy.
Nevertheless, in essence, the 'Indo-Pacific' can (and probably should) be chiefly viewed as a reconceptualisation of the Asian region, incorporating two significant ocean bodies – the Pacific and Indian.
What is the significance of the shift in terminology from 'Asia-Pacific' to 'Indo-Pacific'? Is it just a play on semantics?
In his answer to a similar question, Alex N. Wong, the US Deputy Assistant Secretary in the Bureau of East Asian and Pacific Affairs, argued: "Number one, it [the Indo-Pacific concept] acknowledges the historical reality and the current-day reality that South Asia, and in particular India, plays a key role in the Pacific and in East Asia and in Southeast Asia. That's been true for thousands of years and it's true today. Secondly, it is in our interest, the US interest, as well as the interests of the region, that India play an increasingly weighty role in the region."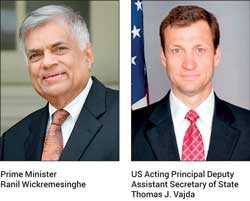 The change in terminology also highlights the fact that a coalition of like-minded democratic states (located in the Pacific and Indian Oceans) is being formed which could,over timeact as a counterbalance against a rising China. Some argue that USA would thereby, complicate Xi Jinping's strategic calculus; while others contend that America's underlying expectation is to encourage Beijing to act 'more responsibly' as a stakeholder in the maritime regional order or at least to ensure the Beijing behaves' more carefully/less assertively' in the Indian Ocean.  Because there exists a strong possibility that the Indo-Pacific concept would be joined with a revived 'Quad' or Quadrilateral Security Dialogue with Australia, Japan and India; China has considered the entire concept as a military-centric anti-China initiative.
What does Free and Open Indo-Pacific (FOIP) really imply?
In a July 2018 speech, Secretary of State Mike Pompeo described the FOIP initiatives goals:
"When we say 'free' Indo-Pacific, it means we all want all nations, every nation, to be able to protect their sovereignty from coercion by other countries. At the national level, 'free' means good governance and the assurance that citizens can enjoy their fundamental rights and liberties. When we say 'open' in the Indo-Pacific, it means we want all nations to enjoy open access to seas and airways. We want the peaceful resolution of territorial and maritime disputes. This is key for international peace and for each country's attainment of its own national aims. Economically, 'open' means fair and reciprocal trade, open investment environments, transparent agreements between nations, and improved connectivity to drive regional ties—because these are the paths for sustainable growth in the region."
According to theUnited States Indo-Pacific Command (USINDOPACOM)an Open Indo-Pacific would "lead to all nations enjoying unfettered access to the seas and airways upon which our nations and economies depend as well as an open investment environment, transparent agreements between nations, protection of intellectual property rights, fair and reciprocal trade—all of which are essential for people, goods, and capital to move across borders for the shared benefit of all."
Since this strategy was launched, USA has:
1. Renamed the United States Pacific Command as the Indo-Pacific Command
2. Announced strategic initiatives to provide $300 million in security assistance to improve security relationships across the Indo-Pacific (Sri Lanka is expected to receive $39 million to support maritime security, freedom of navigation, and maritime domain awareness)
3. Increased the frequency of Freedom of Navigation Operations to challenge Chinese assertions of sovereignty in the South China Sea
4. Brought into effect a BUILD Act (signed into law by US President Trump in October) which establishes a new US International Development Finance Corporation that doubles US development finance capacity to $60 billion. 
What prompted this move by the USA?
Strategically speaking, China's increasing footprint in the Indian Ocean littoral states, including in Sri Lanka. China however, justifies its presence on the basis that they:
1. need to secure sea lanes of communication which are vital for China's trade and energy supply 
2. to invest excess economic capacity through investment projects and 
3. the growing necessity to protect its nationals working on those projects.
Five of the United States' seven major security alliances are also in the Indo-Pacific. 
The Indo-Pacific is expected to be the engine that drives global economic development in the near future. US Trade with East Asia has also soared and some American policy circles firmly believe that the long overdue 'Asian Century' has begun. In addition, many US-based scholars and think tank specialists believe that China poses the most significant challenge to the US-centric liberal international order.
Washington is also of the view that India, because of the latter's strategic interests in the Indian Ocean Region (IOR) and because of the convergence of strategic designs between USA and India, should take up a leadership position in the Indo-Pacific. The alteration of the term 'Asia' to 'Indo' reflects this line of thinking (as a matter of fact, former US Secretary of Defence Leon Panetta lauded India as a "lynchpin" for the United States' Asia-Pacific strategy as early as 2012). 
Some states in the IOR view USA's power as 'declining' whilst China continues to expand its presence through the BRI. The Quad alliance, spurred by Washington and Japan, can therefore, be seen as a response to the increasingly pervasive regional perception that USA is declining relative to China and that China is eclipsing the United States in the economic and security domain.
What does the USA aim to do?
America wishes to:
1. expand assistance to partners to build naval and law enforcement capacities to improve monitoring and protection of maritime interests;
2. establish interoperability, to ensure that the US military is able to more easily integrate with others; (security cooperation in this manner could involve working together in areas like countering terrorism; illegal drugs; illegal, unreported, and unregulated fishing; and human trafficking)
3. strengthen the rule of law, civil society, and transparent governance;
4. pursue private-sector-led economic development with 'no empty promises or surrender of economic sovereignty'–which can be viewed as an indirect swipe at China's foreign lending and investment practices.
How does Beijing view the Indo-Pacific concept?
Nick Bisley from the LaTrobe University and Andrew Phillips from the University of Queensland summed up China's perception of the concept as follows:
"…Viewed from Beijing, the idea of the Indo-Pacific…appears to be to keep the US in, lift India up, and keep China out of the Indian Ocean… (which is why), the Indo-Pacific concept has…received a frosty reception in China…"
In March 2018, China's Foreign Minister, Wang Yi spoke of the initiative in these words: "All such ideas," he said, "are like the sea foam in the Pacific or Indian Ocean: they may get some attention, but soon will dissipate".
How has New Delhi responded to the Indo-Pacific concept?
It needs to be remembered that India wishes to maintain a leadership position in the Indian Ocean region. Its apprehensions regarding Chinese influence over regional economies via Belt and Road Initiative (BRI) investments has spurred a closer relationship with Japan, Australia and USA. Existing sources of tension such as border demarcations, perceived encirclement through Chinese port projects, port calls by Chinese submarines and ships have also exacerbated tensions between the two Asian civilisational states.
Fears have also risen over the possibility that China may enact its 'provocative actions, visible in the South China Sea,' in the Indian Ocean theatre. Not only would this hinder international trade but also pose a significant challenge to international law and norms enshrined in the United Nations Law of the Sea (UNCLOS). The Indo-Pacific alliance of democratic states is viewed as a move to deter and discourage China from behaving in that fashion in the Indian Ocean.
At the Shangri La Dialogue of 2018, Indian Prime Minister (PM) Modi gave definitive support for the US led Indo-Pacific concept when he stated:
"At the same time, India's global strategic partnership with the United States has overcome the hesitations of history and continues to deepen across the extraordinary breadth of our relationship.It has assumed new significance in the changing world. And, an important pillar of this partnership is our shared vision of an open, stable, secure and prosperous Indo-Pacific Region…India's vision for the Indo-Pacific Region is, therefore, a positive one. And, it has many elements. Southeast Asia is at its centre. And, ASEAN has been and will be central to its future. That is the vision that will always guide India, as we seek to cooperate for an architecture for peace and security in this region."
India realises that by becoming a 'net security provider' in the IOR it can effectively preserve maritime transportation routes in the Ocean and strengthen its influence over the Indo-Pacific states.As a result, New Delhi has explicitly endorsed the Indo-Pacific concept.     
Recommendations for Sri Lanka (GOSL)?
1. In a piece to The Diplomat I argued that there is a need to devise a bipartisan foreign policy white paper and defence white paper which could outline the broad defence and foreign policy priorities and goals of the country. By doing so, a coherent, stable and bipartisan foreign and defence policy can be implemented, regardless of the geopolitical conditions in the IOR or a change of Government in the country.
2. The foreign policy of Sri Lanka has always been premised on economic and politico-security considerations. As a country emerging from a colonial background, matters relating to both domainshave a significant bearing on the island. Since 2009, economic compulsions have influenced Sri Lanka's strategic foreign policy decision-making more than traditional security matters. Nevertheless, geopolitical tensions and major power competition in the Indian Ocean has reignited concerns among local policymakers about the implications of these new developments. In this backdrop, maintaining diplomatic support for a rules-based maritime order(which has been reiterated by Dr.Ganeshan Wignaraja and Dr. Dinusha Panditaratne of the Lakshman Kadirgamar Institute) is crucial to secure Sri Lanka's national interests.
3. Some critics of the FOIP 'wonder if the United States has the vision, political will, or economic resources necessary to implement a Free and Open Indo-Pacific strategy effectively'. Therefore the GOSL would be advised to adopt a 'watch and wait' approachto assess the long term strategic and policy initiatives of the FOIP. 
4. The FOIP's emphasis on the military domain may dictate how the initiative spans over the next 5 years (Recall that Trump Administration' decided to withdraw from the proposed 12-nation Trans-Pacific Partnership trade agreement in January 2017).  Consequently, it is best if the GOSL refrains from entangling with the military initiatives of the FOIP which may jeopardise Sri Lanka's close ties with Beijing.
5. Devise a 5-10 medium term plan on infrastructure so that maximum benefit from the FOIP and BRI funds can be accrued for Sri Lanka's development initiatives.
6. Keep in mind that the FOIP's regional architecture is presently a 'work-in-progress'. Therefore, assessing the implications for Sri Lanka is still a challenging task at the moment. 
The writer is a Visiting lecturer of the Bandaranaike International Diplomatic Training Institute and an Associate Research Fellow of the Institute of National Security Studies Sri Lanka. Views, thoughts, and opinions expressed in the text unless otherwise stated, belong solely to the author, and not necessarily to the author's employer or organisation.